In February 2020, the Banking Association of Mexico (ABM) and the Mexican-German Climate Change Alliance of the Deutsche Gesellschaft für Internationale Zusammenarbeit (GIZ) GmbH promoted the first pilot exercise of a reporting framework for accounting for green financing.
This exercise had three main objectives:
To identify the current situation of green financing in Mexican banks and to analyze financing directed towards green projects throughout 2018.
To carry out a harmonized green financing accounting exercise under common and practical criteria.
To check the current practices of gathering information and classifying green financing within banks.
For the exercise to be carried out, 11 activities were defined within six economic sectors in order to do the accounting of the financing.
The results indicated that more than half of the green financing was directed towards clean energy projects; the construction of certified sustainable buildings was in second place, and in third, sustainable agriculture projects, as shown in the following graph.
Total Green Financing in the Sector in 2018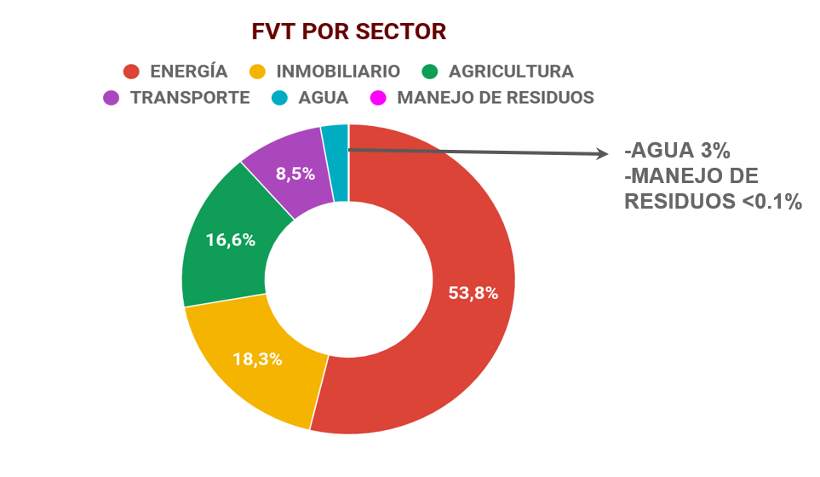 Several lessons emerge from this exercise, including:
More internal coordination is required between the areas involved.
Current capacities must be strengthened to have more reporting capacities in the future.
Ad hoc information systems would strengthen the taxonomy reporting process.
The information gathering exercise should be carried out periodically for the reporting of green financing flows, allowing the green growth of the Mexican economy to be observed.
It is recommendable to add more climatic and environmental sustainability criteria at a later date, such as the degree of transition towards a circular economy or ensuring that the fulfillment of any of the criteria would not significantly damage the achievement of others. This would allow progress to be made in harmonizing green financing in Mexico with the best international practices.
The development and operation of a green finance taxonomy in Mexico is on the horizon, as Mexican banks take concrete steps to operate more sustainably.