Through the approach of renewable energy and energy efficiency co-benefits, decision-makers and experts in climate change and energy can use data to communicate the positive effects derived from the deployment of sustainable energy projects. Currently, there are different models and tools to quantify these social, economic and environmental benefits, providing accurate data on the impact of the installation of these technologies, such as the tool International Jobs and Economic Development Impacts (I-JEDI).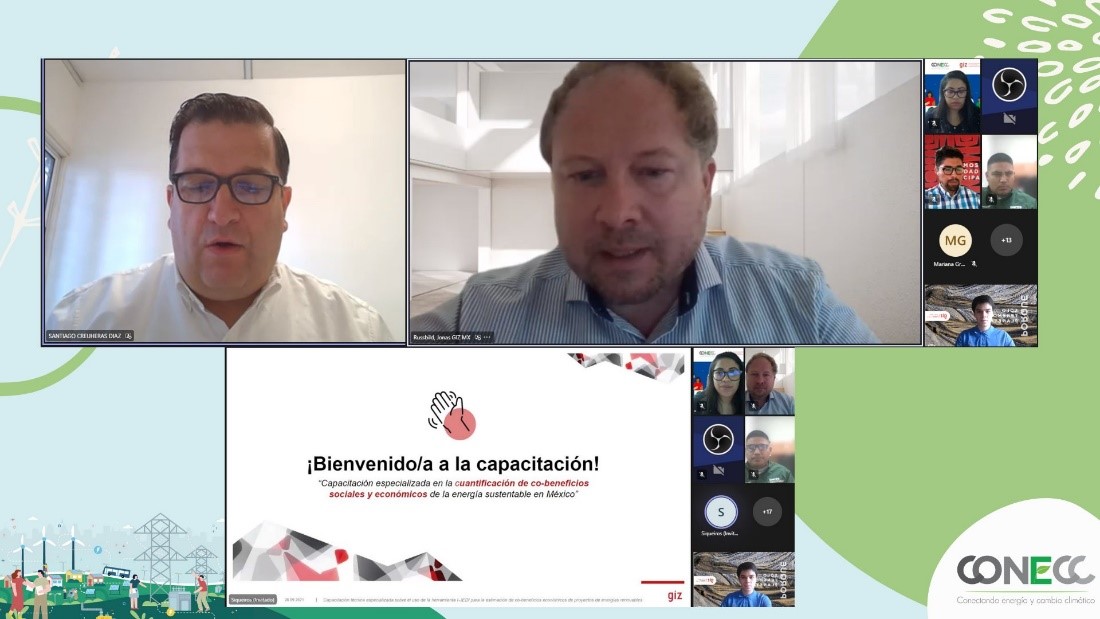 For this reason, the project Enhancing the Coherence of Climate and Energy Policies in Mexico (CONECC) within the framework of the Virtual Forum "Trends of the Energy Transition in the Face of Global Climate Change: Actions at a Subnational Level" organised by the Secretariat of the Environment, Sustainable Development and Territorial Planning of the state of Puebla (SMADSOT), carried out the "Specialised Training in the Quantification of Social and Economic Sustainable Energy Co-benefits in Mexico". The training focused on the use of the I-JEDI tool to quantify the socioeconomic co-benefits of renewable energy projects. The aim was to introduce the concept of co-benefits and provide knowledge for the model to be implemented–as well as to familiarise decision makers and experts with its use.
The workshop lasted three days and was attended by 21 people from the subnational, federal, private, and academic public sectors. The training focused on practical modelling exercises for photovoltaic and wind energy projects, with a focus on quantifying the jobs generated and economic impact. Additionally, spaces for dialogue between experts were created, in order to share experiences, good practices and opportunities triggered through the quantification of co-benefits. Importance was placed on these positive impacts reaching the communities where the projects are developed. The participants concluded that the I-JEDI tool could be a basis for local governments to approach the quantification of co-benefits for the socioeconomic development of a region.
At the end of the workshop, the participants were able to distinguish the social, environmental and specifically economic co-benefits, identifying the types of employment: direct, indirect and induced–derived from the different stages of the project such as construction, operation and maintenance. In addition, the participants carried out different simulation exercises to evaluate and strengthen knowledge, as well as the skills acquired at the workshop. The event also fostered a constructive dialogue among the participants, who shared their experiences and perspectives from their different work contexts, enriching the training and the lessons learned during the workshop.