Increasingly, Blockchain has become a buzzword in the sustainable development community. Yet, the usability and potentials of the technology behind Bitcoin are still unclear for many potential use cases. As part of a regional collaboration (GADeR-ALC), GIZ Brazil, GIZ Costa Rica and GIZ Mexico took an initial step to explore and evaluate the possibilities of using Blockchain technology in climate policies in the three countries. Their conclusions were recently presented in a joint webinar.
.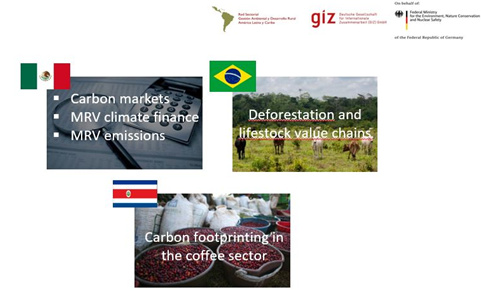 Brazil and Costa Rica are exploring opportunities to use Blockchain for enhancing the transparency of national livestock and coffee value chains, while Mexico is analyzing the feasibility of integrating Blockchain into several climate policy instruments, such as the Emissions Trading System (ETS), and the monitoring, reporting and verification (MRV) systems for greenhouse gas (GHG) emissions and climate finance.
In Brazil, land-use change, deforestation and farming account for 52% of national GHG emissions. Although new legislation has been passed to protect Brazilian forests in recent years, the laws remain only partially enforced due to a lack of transparency. During the webinar, Vasco Varanda Picchi, a consultant for Safe Trace, discussed how Blockchain could potentially help unify the different existing tracing systems along the livestock value chain and avoid data tampering.
Costa Rica faces similar challenges within its coffee sector, which is responsible for 9% of national GHG emissions. During the webinar, Oruka.lat Consultant David Cortés Poza explained that the usage of Blockchain could enhance value chain traceability from farm production to export sales, which, in turn, could reduce CO2 emissions by up to 250,000 tons and increase the market price of coffee.
Mexico is among the top 15 global emitters of GHGs. During the webinar, Sven Braden, co-founder of the Climate Ledger Initiative, provided insights into different design options for Blockchain technology and how these can be applied to the Emissions Trading System. He also presented criteria for determining whether Blockchain can be a useful technology for specific climate issues, including: Is a database involved? Does the climate issue at hand require several entities to provide information? Is there a lack of trust among stakeholders? Is there a need for disintermediation and interaction of transactions?
These criteria were also used in a final analysis that compared Blockchain's potential in the three cases from Brazil, Costa Rica and Mexico. Based on this analysis, Cortés Poza provided specific recommendations for the three use cases. Blockchain has clear potential for the traceability of value chains and climate finance as well as for the exchange of assets in the Mexican ETS. However, compared to traditional systematized databases, Blockchain does not offer an added value for the MRV of GHG emissions.
An important decision regarding Blockchain technology includes its design options: A completely public Blockchain is seldom needed if participants on the Blockchain are known; public Blockchains come with the disadvantage of high inefficiency and energy consumption. Cortés Poza suggested that in the value chain examples, a private (permissioned) Blockchain be used, while in the ETS case, a hybrid (private but centralized) version would be preferable. For climate finance, a public Blockchain would significantly enhance transparency.
More than 40 individuals participated in the webinar, which was held on November 30, 2018 and allowed participants to ask the presenters questions via live chat.
Below, you can download the final presentation of the comparative analysis of the three case studies as well as re-watch the webinar.
The seminar was organized as part of a regional collaboration (GADeR-ALC) by the Deutsche Gesellschaft für Internationale Zusammenarbeit (GIZ) GmbH and the GIZ offices in Brazil, Costa Rica and Mexico.