The Mexico-European Union Forum on Coastal Vulnerability drew in the participation of 25 government experts, academia, and specialized institutes, of which 12 were from Mexico and 13 from the European Union, to further discuss one of the great global challenges: the vulnerability of coastal areas to the effects of climate change.
The forum's aim was to promote a space for dialogue and exchange of experiences, policies, methodologies, lessons learned and best practices regarding coastal vulnerability to the impacts of climate change, to study, evaluate and reduce vulnerability, considering changes in current and future climate patterns, and their possible impacts.
The topics addressed were: 1) Coastal vulnerability in Mexico and the European Union, 2) Planning, implementation, monitoring and evaluation of policies to address coastal vulnerability, and 3) Vulnerability and adaptation: experiences and responses from a local level, with a focus on social participation and gender.
In the introduction, the general director of INECC, Dr. María Amparo Martínez Arroyo, pointed out that: "it is imperative to place scientific knowledge on different continents in order to inspire a collective design of actions that will help us advance in long-term intercontinental actions." Next, the Ambassador of the European Union in Mexico, Gautier Mignot, pointed out that around 95% of impacts could be avoided through a coastal adaptation focused on human settlements and economically important areas on the coast.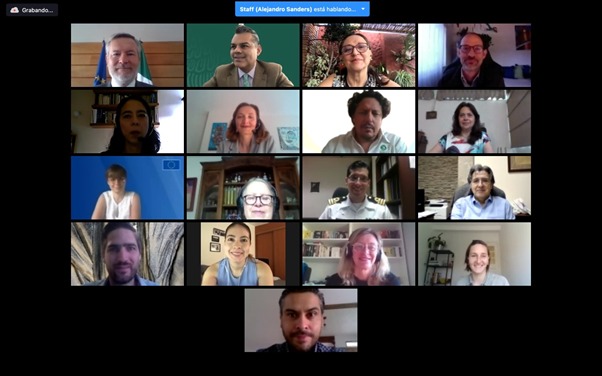 The speakers agreed that the national and international governance of seas and coasts is decisive for their proper management, as well as for reducing climate vulnerability and increasing the capacities necessary for mitigation and adaptation to climate change. In this context, open and direct communication between different levels of government and sectors of society leads to better management of climate risks in these sites, as shown by the experience of several countries of the European Union and several Mexican states in coastal areas.
The forum was organized within the framework of the project Strategic Alliance for the Implementation of the Paris Agreement (SPIPA), together with the National Institute of Ecology and Climate Change (INECC), the General Directorate of Policies for Climate Change of the Ministry of the Environment and Natural Resources (SEMARNAT) in collaboration with the Delegation of the European Union (EU) 'Team Europe' and the German Embassy.