Transportation represents one of the greatest challenges in terms of mitigating greenhouse gas (GHG) emissions and reducing the impact on the health of the urban population, as well as being a critical element for the population's social well-being and quality of life.
However, Latin American countries are slow in moving towards the use of sustainable transport. That is why LAB México, an initiative proposed by the Inter-American Development Bank (IDB) with the support of the IKI Initiative, has proposed a working group to address this issue.
As a result of this working group, the presentation of the roadmap to promote sustainable transportation in Mexico was held on July 27. The document was promoted by LAB and the National Bank of Works and Services (BANOBRAS) and seeks to empower subnational governments in their mobility strategy.
This Roadmap summarises the main recommendations for a national initiative to accelerate the adoption of sustainable transportation. Three lines of action are proposed:
Harmonise public policy and promoting actions to facilitate the design, development, adoption and/or identification of sustainable transportation financing alternatives.
Promote technical assistance in transport that develops capacities in subnational governments to structure sustainable mobility projects, from their conceptualization, structuring and contracting to the operation and follow-up of the implemented project.
Taking advantage of financial instruments that allow credit institutions to understand the opportunities and challenges of financing these projects, while being able to understand the revenue logic for debt service and mitigate the risks associated with this type of programme.
The graph shows the elements of each of the axes of this roadmap: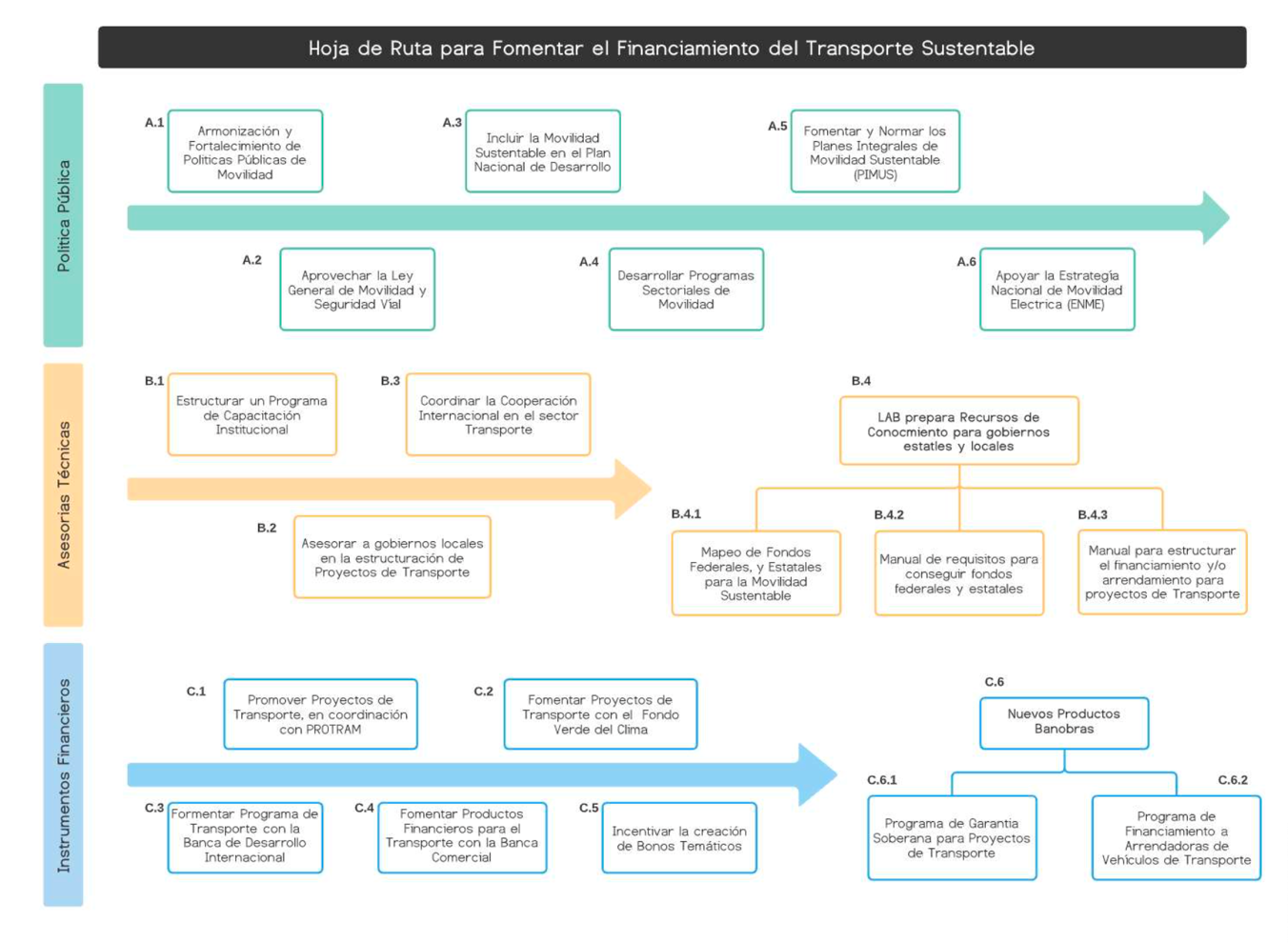 Banobras will continue to lead this initiative, coordinating the activities to be developed in each proposed axis.