Ante la gravedad de los problemas ambientales como el cambio climático, la pérdida de biodiversidad y la limitada disponibilidad de recursos que se requieren para mantener el nivel de actividad económica, es fundamental comenzar a sentar las bases para la transición hacia un sistema económico que además de ofrecer opciones de crecimiento y desarrollo a corto y mediano plazo, también permita la protección de los sistemas naturales de los que depende el bienestar de la población a largo plazo.
Mientras que en los últimos 50 años la población mundial se ha duplicado, la extracción de recursos se ha triplicado, alcanzando 12.2 toneladas anuales per cápita en 2017. Con los patrones actuales de producción y consumo se estima que para el 2050 se duplicará la extracción de recursos, lo que representará una enorme presión para el balance de los ecosistemas.
Hoja de Ruta para una economía circular
Como parte de los esfuerzos por impulsar un uso más eficiente de recursos, y la circularidad en los sistemas productivos del estado, la Deutsche Gesell­schaft für Internationale Zusammenarbeit (GIZ) GmbH (Cooperación Alemana al Desarrollo Sustentable) a través del proyecto Iniciativa Eficiencia de Recursos y Acción Climática (IREK II) cooperó junto con el Gobierno de Guanajuato a través de la Secretaría de Desarrollo Económico Sustentable (SDES) y la Secretaría de Medio Ambiente y Ordenamiento Territorial (SMAOT) para preparar la hoja de ruta – "Guanajuato Circular 2050: Eficiencia de Recursos y Economía Circular".  Este documento presenta la visión del gobierno Estatal para lograr sistemas productivos que permitan mantener y recuperar el valor de los recursos a lo largo todo su ciclo de vida de los productos, y cuidar el equilibrio de los ciclos biológicos.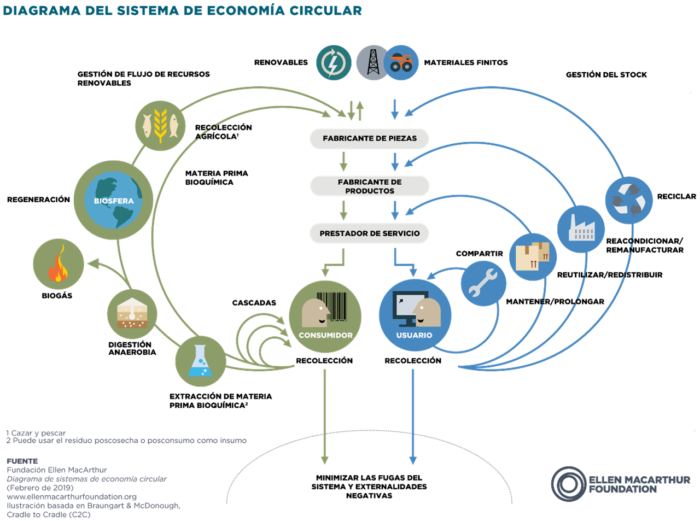 Relevance
In addition to being one of the first states to lay the foundations for moving towards more efficient and circular production models, an innovative aspect of the Guanajuato Circular 2050 document is that it seeks to do so in a sectoral manner, identifying the main subsectors based on their contribution to the local Gross Domestic Product (GDP), which allows specific strategies to be established for each one.

The objective is to foster communication based on trust between the public and private sectors regarding the specific conditions of each productive subsector, and to develop action plans, indicators and sectoral regulations that encourage the efficient use of resources, sustainable production and consumption. This limits the degradation of ecosystems and ensures the availability of vital resources for future generations.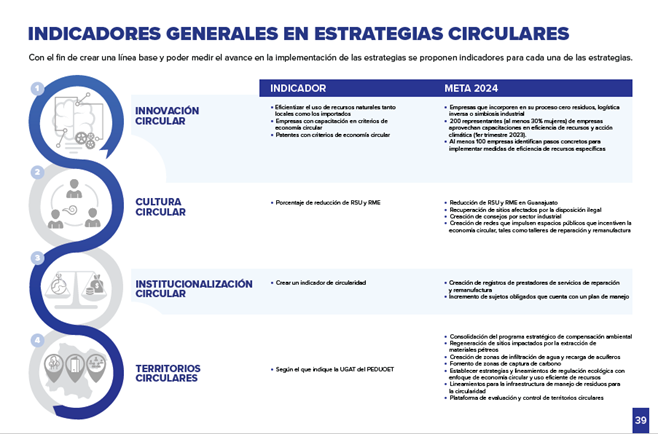 Consult the document "Guanajuato Circular 2050: Resource Efficiency and Circular Economy" by clicking on the image below.
The document can also be downloaded from the virtual library of the Ministry of Environment and Territorial Planning: https://smaot.guanajuato.gob.mx/sitio/biblioteca-en-linea