Through the quantification of the social, environmental, and economic co-benefits of sustainable energy, synergies can be created with different sectors and agendas that contribute to climate action efforts. Therefore, the project Enhancing the Coherence of Climate and Energy Policies in Mexico (CONECC), in coordination with the Ministry of Environment and Natural Resources (SEMARNAT), implemented a pilot program to quantify the co-benefits of sustainable energy. This is within the framework of activities which aims to develop a co-benefits quantification tool.
The work methodology presented starts with a review of the state of the art of co-benefits and approaches to quantify these; it then contemplates a robust process of information collection and workshops to identify and prioritize the co-benefits to be quantified. The representatives of the participating institutions were the National Water Commission (CONAGUA), the Yucatan Ministry of Economic Development and Labor (SEFOET); the Secretary of the Environment of Coahuila (SMA); the Secretariat of the Environment and Territorial Planning of Guanajuato (SMAOT); the Secretary of Environment and Natural Resources of Hidalgo (SEMARNATH) and the Energy Commission of Tamaulipas (CETAM).
The event was inaugurated with words of welcome from the General Director of Policies for Climate Change at SEMARNAT, Dr Marco Antonio Heredia Fragoso, and Jonas Russbild, Director of the CONECC project. Dr Heredia emphasized that the quantification of co-benefits will allow progress in providing evidence of the advantages of sustainable projects that allow the fulfilment of Mexico's climate goals. In addition, he commented that subnational participation is key to achieving Nationally Determined Contributions (NDC) and reiterated that SEMARNAT is promoting evidence of the benefits of climate action.
Jonas Russbild highlighted the participation of the representatives of the six selected projects in the pilot program of co-benefits quantification, and the fruitful collaboration between SEMARNAT and GIZ. He commented that the quantification tool will allow more stakeholders to be part of local efforts to meet the goals set in the NDC, leaving no one behind.
The CONECC project presented the objectives of the pilot program and the co-benefits tool. Factor CO2, the consultancy supporting this process, presented the quantification methodology and shared the milestones to consider. The representatives of the participating projects took part in an open dialogue about the next steps to follow and the importance of quantifying co-benefits at a local level.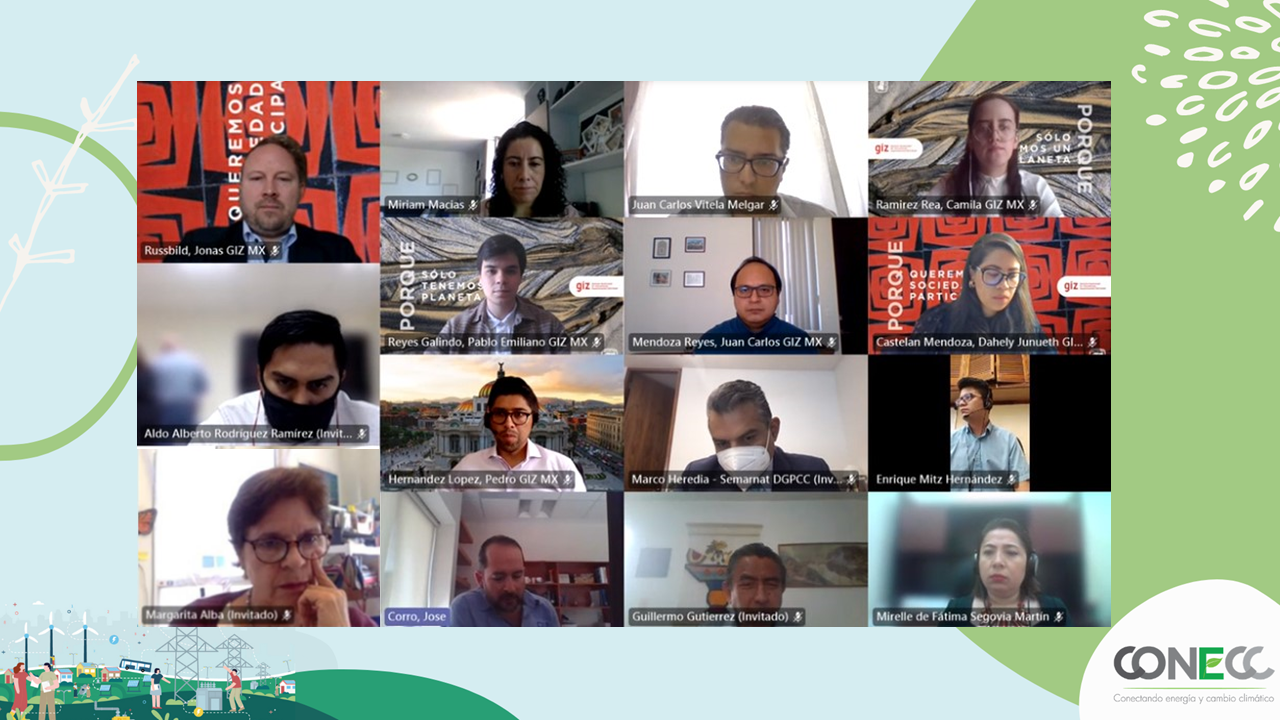 As part of the dialogue with the projects, the information gathering activities will begin in the coming weeks to advance the process of quantifying the economic, social, and environmental benefits of the projects participating in this pilot program, to quantify the co-benefits of sustainable energy.
For more information about the activities of the Co-benefits Mexico project, we invite you to write to us at: cobeneficios@giz.de and pedro.hernandez@giz.de or at our Twitter account.