With the aim of strengthening the capacities of decision-makers on climate and energy issues in Mexico, within the framework of the global COBENEFITS project, which is part of the International Climate Initiative (IKI), a virtual training was carried out on the co-benefits of renewable energy and employment opportunities at the subnational level in Mexico.
It was implemented by the Renewables Academy (RENAC) in alliance with GIZ through the project Enhancing the Coherence of Climate and Energy Policies in Mexico (CONECC), with the support of the Mexican Environmental Ministry (SEMARNAT).
Throughout the training, participants were instructed on the use of methodologies such as the International Model of Impacts on Employment and Economic Development (I-JEDI) to quantify the jobs created at a subnational level through renewable energy projects.
The training, held from March 22 to 24, was opened by Dr. Marco Heredia, General Director of Policies for Climate Change of SEMARNAT, and Jonas Russbild, Director of the CONECC Project. They highlighted the importance of the co-benefits approach as a tool to facilitate and promote the implementation of positive impacts in the social, environmental, and economic spheres of sustainable energy deployment at the local level —as well as for promoting Mexico's fulfillment of the goals established in its Nationally Determined Contribution (NDC). The CONECC project showed the importance of the co-benefits of sustainable energy and shared the main results of the study on the quantification of co-benefits at the local level in the state of Yucatán.
The think-tank Adelphi Berlin presented the concept of co-benefits and how they can be catalysts for local employment. Attendees actively participated in the development of a practical case using the I-JEDI tool to quantify the socioeconomic impacts of renewable energy projects. This exercise allowed the participants to estimate the direct, indirect, and induced jobs generated by the deployment of different technologies.
The training concluded with a session on the essential elements to promote a post-COVID-19 green recovery, as well as the role of the energy transition in job creation and in advancing the global fight against the climate crisis. More than 25 people from the environmental and energy sector at federal and state levels participated in the training.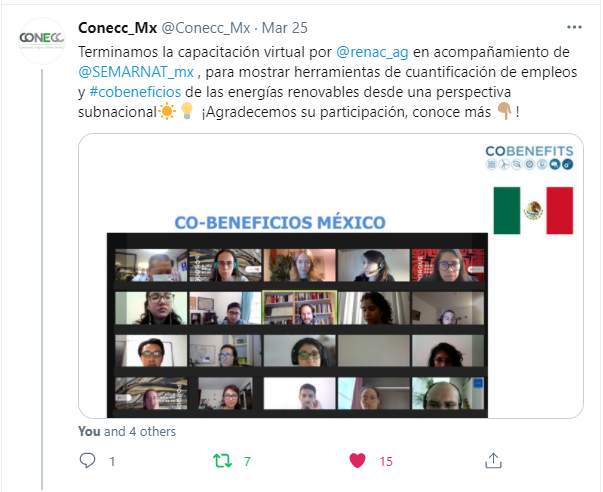 For more information or questions about the activities of the project "Co-benefits: The Energy Transition's Contribution to Sustainable Development in Mexico" (Co-benefits Mexico), you can write to us at: cobeneficios@giz.de and pedro.hernandez@giz.de or through our Twitter account.