In light of the  forthcoming launch of the Emissions Trading System (ETS) Pilot Program in Mexico, in January 2020, and with the intention of promoting a favorable environment for a robust and continuously improving Emissions Trading System, the project "Preparation of an Emissions Trading System in Mexico"(ETS) of the Deutsche Gesellschaft für Internationale Zusammenarbeit (GIZ) GmbH (German Cooperation for Sustainable Development)  facilitates the dialogue with actors from the public and private sectors and civil society, so that they can identify, and subsequently play their roles in the market.
In this context, the discussion "The Insertion of the Emissions Trading System in Mexico's research agenda" was held, bringing together representatives of Mexican universities to reflect on the opportunities it represents for the academic world in matters of regulation, implementation and analysis of results of the ETS Pilot Program. In addition, possible challenges were discussed, as well as solutions and possibilities for collaboration to avoid those challenges..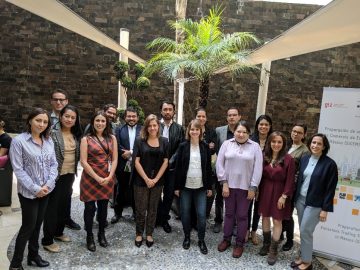 The breakfast took place on September 25th, 2019 at the Novit Hotel in Mexico City. The project "Preparation of an Emissions Trading System in Mexico (ETS)" implemented by GIZ on behalf of the German Federal Ministry for the Environment (BMU) organized the event, which was attended by  distinguished universities such as the National Autonomous University of Mexico (UNAM), the Center for Economic Research and Teaching (CIDE), the Ibero-American University, the Anahuac University, the National Polytechnic Institute and the Mora Institute.