In the context of Covid-19 and in the framework of Urban October 2020, a space for dialogue was opened to reflect on the link between urban development and economic reactivation. In the discussion, actions that are being carried out for economic reactivation in different municipalities of the country were presented, and the role that municipalities play in attending to different emergencies was recognised to be of great relevance, since they know well the needs and the potential of their cities, as well as being the first in line when receiving citizens' demands.
On October 7 of this year, the National Institute for Federalism and Municipal Development (Inafed) promoted a dialogue between the Deutsche Gesell­schaft für Internationale Zusammenarbeit (GIZ México) GmbH, the Ministry of Agricultural, Territorial and Urban Development (SEDATU) and the Municipality of Hermosillo, Sonora, to reflect on urban development and economic reactivation. The dialogue was attended by more than 200 public officials who connected through Zoom and Facebook Live platforms.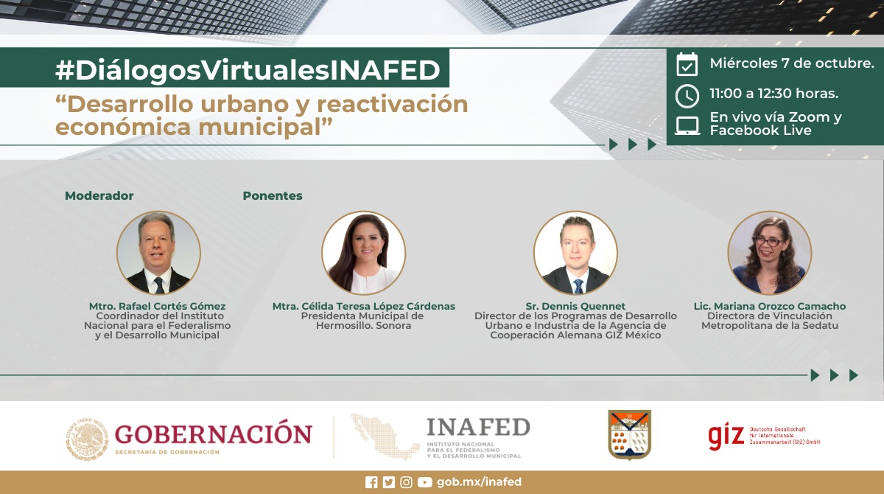 Dennis Quennet, talking on behalf of GIZ, stressed that the health emergency should not remove the focus from the climate emergency; he stressed that the upcoming climate plans, programmes, projects, and investments must have a sustainable and long-term vision. He proposed an acceleration of the recovery by promoting new markets and green jobs, highlighting the fields of infrastructure, mobility, and urban gardens, while addressing the challenges of climate change.
The municipal president of Hermosillo shared her vision and actions for sustainability in her municipality. They are working on Sustainable Mobility issues, promoting public space projects as triggers of economic activity, implementing green infrastructure that promotes the efficient use and management of water, and creating a circular economy centre.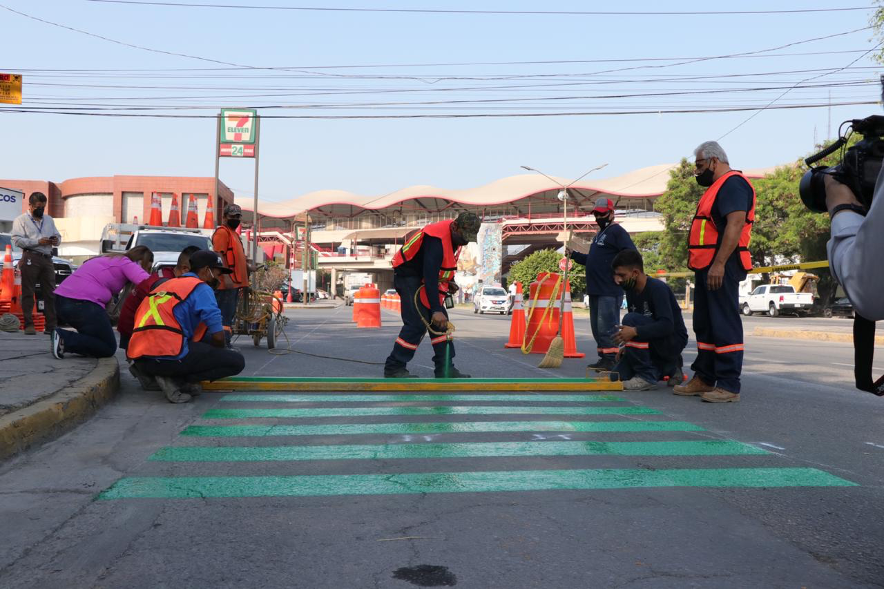 For her part, Mariana Orozco, SEDATU's Mobility Director, shared the 4S Mobility Plan (Healthy, Safe, Sustainable and Solidary) in which four strategies and several actions are promoted, through two guides and advice for municipalities.
To close the event, Quennet pointed out four key aspects for economic reactivation: coordination between different levels of government, cooperation between different sectors, sharing good local practices, and involving citizens. Rafael Cortés thanked GIZ Mexico for its contribution and cooperation, being one of the most active in promoting actions in the country's municipalities.