With the objective of providing capacity development mechanisms and accompanying actors involved in the Emissions Trading System (ETS), the project "Preparation of an Emissions Trading System in Mexico" (ETS) of the Deutsche Gesellschaft für Internationale Zusammenarbeit (GIZ) GmbH (German Cooperation for Sustainable Development)  created a board game that allows players to understand the technical aspects and possible scenarios that may occur during the implementation of an ETS.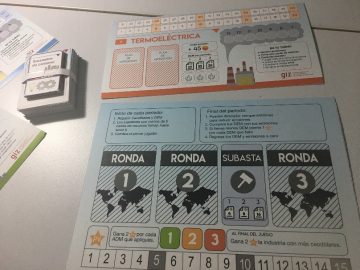 ETS, commissioned by the German Federal Ministry of Environment, Nature Conservation and Nuclear Safety (BMU), supports the Mexican Ministry of Environment and Natural Resources (SEMARNAT) in the creation and dissemination of communication materials and awareness-raising instruments of the ETS. Due to the technical complexity of the system and having the shortage of technical experts at the national level in mind, SiCEM seeks innovative mechanisms that allow a non-face-to-face spread of information in this matter. Consequently, it created a didactic board game that incorporates specialized concepts and key messages for a more comprehensive understanding of the ETS.
The purpose of the board game is to have an educational tool that presents in a simple and fun way the essential aspects of the ETS, such as compliance, allocation, periods, offsets, allowances and penalties. The board game's goal is to increase the general interest in how the ETS works and its status around the world. In the game, each player plays the role of one of four industrial plants. The objective of the game is to mitigate emissions, get money and comply with the ETS.
The process of creating the board game "Hasta el tope" included the participation of representatives from different institutions. Through meetings and test sessions, the creators were able to gather the opinions of the different participants on how to improve the game design, include more topics and facilitate the understanding of the ETS internal process. The final product is a board game that incorporates the main elements, processes, actors, and situations  that involve an ETS. Likewise, the game was able to extract the main information of the system and adapt it understandably and attractively, without losing its technical nature.
Dare to learn about the Emissions Trading System while playing and having fun!
DOWNLOADS:
ING – A board game on The Emissions Trading System