Pronatura Sur as part of the International Climate Initiative (IKI) and with the help of strategic allies has made an effort to include in the institutional agenda topics that will deepen the discussion on how to mitigate the effects of climate change. For this reason, in this first semester of the year the State Forum on Rural Development, Natural Resources and Climate Change was organized in the city of Tuxtla Gutiérrez, Chiapas.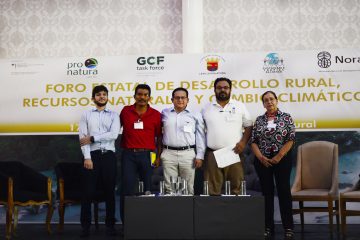 The objective of the forum was to promote a space for dialogue and reflection on the over-exploitation of natural resources, the vulnerability of the population in the face of climate change and the actions to be taken at the legislative, programmatic and social levels.
The inauguration of the forum was in charge of the representative Rosa Bonilla Hidalgo and Romeo Domínguez, general director of Pronatura Sur, who pointed out that it is the concurrence of all the actors that will allow progress towards the goals of reducing deforestation, preserving natural resources, reducing poverty and hunger, achieving responsible production and consumption; goals that are included in the Sustainable Development Goals (SDG) and in the State Development Plan.
The forum had two keynote presentations given by Dr. Claudia Octaviano, PhD, General Coordinator for Climate Change Mitigation of the National Institute of Ecology and Climate Change (INECC) and by Dr. Jose Alberto Lara, PhD, Director of the Transdisciplinary University Center for Sustainability (CENTRUS) of the Iberoamerican University.
During the panels, the role of public policies and inter-institutional arrangements to boost public and private participation in comprehensive land management and the achievement of SDG goals in rural areas were analyzed. Among the panelists of the Forum were Antonio Bonifaz, Director of Planning, Monitoring and Evaluation of the Ministry of Finance of the State of Chiapas; Joaquín Zebadúa, Municipal President of Berriozabal, Chiapas; Elsa Esquivel, Director of the AMBIO Cooperative, and Alejandra Blanco, Strategic Project Coordinator of the Ministry of Environment and Territorial Development of the State of Jalisco (SEMADET), who agreed that it is necessary to create spaces for dialogue among the three levels of government and concluded that the enunciation of solutions and initiatives for sustainable rural development must take place at the territorial level and that state planning should have mitigation and adaptation to climate change  as a transversal axis.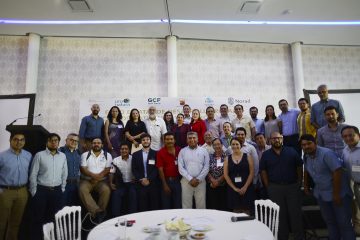 The second panel focused on the role of alliances among private initiative, local communities and governments for comprehensive land management and achievement of the SDGs. The panelists, with the public, analyzed the need to align the various public policy instruments to implement concrete actions at the state level and emphasized that sustainable development should occur at the territorial level from the bottom up.
The forum showed that there is an opportunity and availability among academic institutions, government and Non-Governmental Organizations (NGOs) to achieve collaboration in order to meet the state challenges in climate change, sustainable development and integrated territory management.