Experts participate in the Climate-Smart Livestock Forum: An Alternative for Sustainable Development, an initiative that takes place in Chiapas.
Actors and experts from the livestock sector gathered on November 26 at the Climate- Smart Livestock Forum: An Alternative for Sustainable Development, a space organized by the Biodiversity and Sustainable Agrosilvopastoralist Livestock Landscapes (BioPaSOS) project to address the development of climate-smart livestock in Mexico

Workshop participants © Pronatura SurDuring the forum, which was hosted by the Autonomous University of Chiapas (UNACH) in Tuxtla Gutiérrez, Chiapas, experts presented on topics such as normative and regulatory frameworks, livestock production and biodiversity, lessons learned in Jalisco, research progress, and challenges and opportunities for climate-smart livestock.
BioPaSOS Coordinator Claudia Sepúlveda explained that the forum sought to contribute to the development of climate-smart livestock in the Tablón basin in Chiapas by sharing experiences and analyzing the sector's progress and challenges.
In addition, a panel of local experts discussed the opportunities and challenges of climate-smart livestock. Five organizations with programs in the Tablón basin participated in the panel: the National Commission of Natural Protected Areas (CONANP), Pronatura Sur, A.C., El Triunfo Conservation Fund (FONCET), The Nature Conservancy (TNC) and Ecology, Sustainability and Innovation A.C. (ESI A.C.).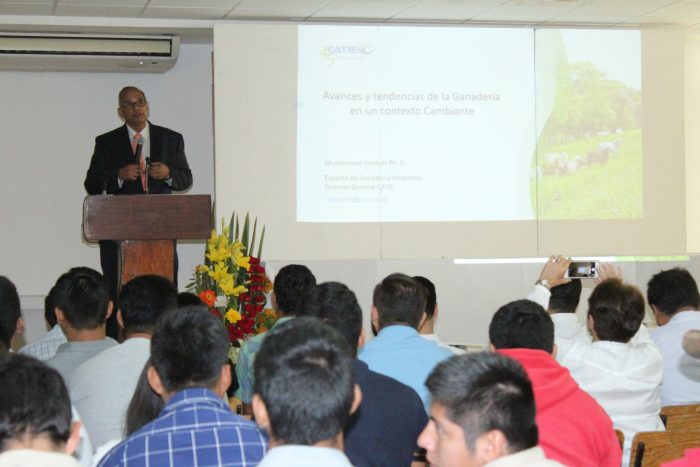 BioPaSOS Researcher Alejandra Martínez commented that the forum will allow her to apply future actions that promote climate-smart livestock and help, through the promotion of agrosilvopastoral systems, to improve the quality of life of livestock families, reduce emissions, and conserve biodiversity and ecosystem services derived from it.
The forum was organized with the support of the CONANP, the Sepultura Biosphere Reserve (REBISE), the UNACH, the Faculty of Agronomic Sciences Campus V of the UNACH, the Academic Livestock Agroforestry Body, the College of the Southern Border (ECOSUR), the Ministry of the Environment and Natural History (SEMAHN) and the Ministry of the Countryside (SECAM).