The Ministry of Energy (SENER), the Ministry of Environment and Natural Resources (SEMARNAT) and the Deutsche Gesellschaft für Internationale Zusammenarbeit (GIZ) GmbH are pleased to invite to the International Forum on Digitization in the Energy Sector: An opportunity for climate protection? The forum is organized within the framework of the project "Enhancing the coherence of climate and energy policies in Mexico – CONECC", which seeks to build bridges between the energy and climate change sectors to enhance the contribution of the former to climate protection.
The event will include the participation of the Undersecretaries of Planning and Energy Transition of the Energy Ministry, the Undersecretary of Planning and Environmental Policy of the Ministry of Environment and Natural Resources, as well as the Coordinator of the National Digital Strategy, and other representatives of key national and international institutions for the development of the energy and climate agendas as a whole.
The Forum seeks to establish itself as a meeting place for different public and private actors in order to promote regulatory, market and technological innovation. In this context, some of the most relevant questions to be addressed are: Does the digitization of the energy sector offer an opportunity for its decarbonisation in the interests of climate protection? To what extent can the digital-technological development of the energy sector contribute to the achievement of national goals on climate and clean energy?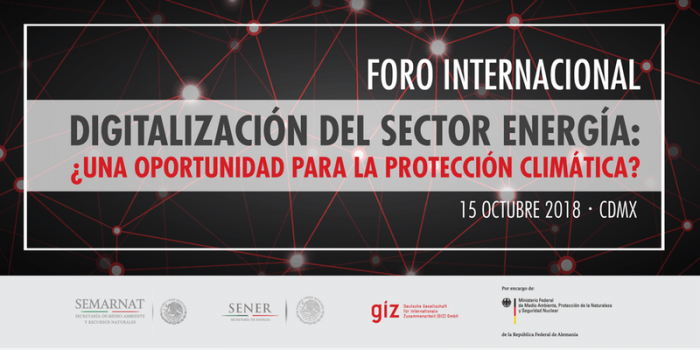 Through a keynote talk, two thematic panels and a special session, companies, government agencies, academic and research institutions, and civil society organizations from Mexico and Germany will discuss most recent developments in energy digitization processes, to explore potential areas of collaboration and generate joint learning around new regulations and business models for digital innovation and its potential for climate protection.
The forum will also have three parallel workshops for the discussion of three specific areas of digital transformation: smart grids, smart markets and energy efficiency. In these spaces, Mexican and German companies will be able to identify opportunities to develop new business models and regulations that facilitate the digital sector transition. The event will close with the presentation of key messages and a reception for the exchange of ideas.
To receive the invitation and register, please contact us at the following email address: francisco.colin[at]giz.de