In the context of International Cooperation for Sustainable Urban Development, [1] the Financing Energy for Low-Carbon Investment – Cities Advisory Facility (FELICITY) program presented its initial findings about low-carbon infrastructure financing projects in Latin American cities at the Smart City Expo Latam Congress, held from September 11 to 13 in Puebla.
In addition to presenting its preliminary results, FELICITY discussed financing opportunities and actors, as well as the prospects for implementing low-carbon projects in Latin America.
At the global level, FELICITY has selected five low-carbon projects in Latin American cities, three in Brazil and two in Mexico. Each city will receive personalized technical assistance to help with implementation and securing funding.
FELICITY also shared its methodology for planning and developing bankable projects, which covered the financial, administrative, social and environmental requirements of financial institutions. In addition, it discussed lessons learned and best practices from the project developer's perspective for financing low-carbon projects.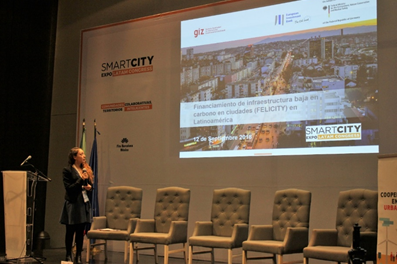 Finally, next steps for providing technical assistance to the selected projects were discussed, as was support to the projects that were not selected, which will include workshops and webinars. The goal is to plan and develop bankable and strong projects to help facilitate their access to financing.
The Smart City Expo Latam Congress brought together more than 12,000 visitors from over 250 cities in Mexico and the world, with 220 participating speakers. The event was organized by FIRA Barcelona Mexico and the Smart City Expo World Congress in collaboration with Alianza Smart LATAM. For more information about Smart City, visit : https://smartcityexpolatam.com/#inicio.
FELICITY is a global program funded by International Climate Initiative (IKI) dof the German Federal Ministry for the Environment, Nature Conservation and Nuclear Safety (BMU) and implemented by the Deutsche Gesellschaft für Internationale Zusammenarbeit (GIZ) GmbH in collaboration with the European Investment Bank  (EIB). For more information about FELICITY, visit: http://iki-alliance.mx/en/felicity-selecciona-dos-proyectos-en-mexico-para-brindar-asistencia-tecnica-hacia-el-financiamiento-climatico/ 
[1] To see the agenda: http://www.iuc.eu/fileadmin/templates/iuc/Documents/Smart_City_Expo_Latam-_Cooperaci%C3%B3n_Internacional_para_el_Desarrollo_Sustentable.pdf