Naucalpan, State of Mexico. On April 4th, the "Urban Solid Waste Energetic Utilization and Valorization" International Forum was successfully held, bringing together the key stakeholders of the sector, generating networks and promoting the exchange of knowledge and relevant experiences for the urban solid waste (USW) energy use and recovery.
The event was attended by more than 350 participants (35% women and 65% men), among which were actors from the local and federal government, private sector and academia. The objective to generate a common understanding on the challenges and opportunities involved in the USW energy use and recovery was achieved, dialogue was established to disseminate the implementation of sustainable policies of USW integral management that can contribute to setting goals for national and international sustainable development and climate change combat and that, at the same time, are viable from the political, economic, financial and social point of view.
The Forum was inaugurated by Patricia Elisa Durán Reveles, Constitutional President of the Municipality of Naucalpan de Juárez, Eduardo Parra Ramos, Director of Integral Waste Management of the Ministry of Environment and Natural Resources (SEMARNAT), Álvaro Zurita, Director of the EnRes Program and Responsible in Mexico of FELICITY of the Deutsche Gesellschaft für Internationale Zusammenarbeit (GIZ) GmbH, Thomas Frankiewicz, Leader of International Programs of Biogas of the United States Environmental Protection Agency (EPA) and by Jorge Rescala Pérez, Secretary of Environment of the Government of the State of Mexico.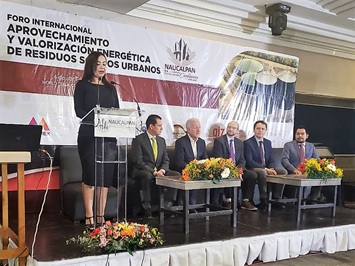 In a series of panels followed by Q&A sessions, several topics were discussed in terms of urban solid waste, such as: implementation of policies at the international, national, and local levels; national and international best practices; technical and legal viability of USW energy recovery projects; environmental and climatic benefits and co-benefits; and financing mechanisms.
The Forum was held at the WTC Mexiquense and was jointly organized by the Municipality of Naucalpan de Juárez, the EPA, the Climate and Clean Air Coalition to reduce short-lived climate pollutants (CCAC) and the GIZ through the EnRes and FELICITY programs. With 20 international and national expert speakers, the agenda of the forum was planned to promote the importance of the articulation of the three levels of government, the active participation of the private sector, civil society and the direct responsibility of the Municipalities to achieve USW management sustainability and successful energy recovery projects.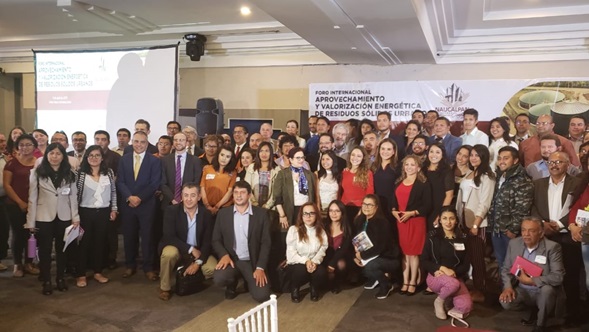 EnRes is the urban waste energy use program commissioned by the Federal Ministry forof Economic Cooperation and Development (BMZ) of Germany and in cooperation with partner institutions, the GIZ introduces the use of energy as a sustainable option for the recovery of energy from of urban waste in Mexico. For more information, see here.
FELICITY is the initiative implemented by GIZ; with the support of the European Investment Bank (EIB) and the Federal Ministry for the Environment, Nature Conservation and Nuclear Safety (BMU) of Germany that provides technical assistance in the preparation of projects focused on low carbon infrastructure in cities. For more information, see here.